HMCo #457s Osprey
Particulars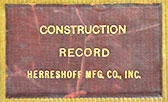 Name:
Osprey
Type:
Half-rater Fin Keel
Designed by:
NGH
Contract:
1895-6-15
Construction:
Wood
LWL:
14' 5" (4.39m)
Beam:
4' 7" (1.40m)
Draft:
3' 9" (1.14m)
Rig:
Gaff Sloop
Keel:
FK
Ballast:
Lead
Built for:
Yznaga, T. [W. K. Vanderbilt order (T. C. Zerega?)]
Amount:
$1,000.00
Note(s) in HMCo Construction Record:
1/2 Rater order W. K. Vanderbilt
Note(s): Vessel information is primarily but not exclusively from the HMCo Construction Record. Supplementary information when not cited here usually appears elsewhere in this record with a complete citation.
Model

Model number:
6
Model location:
H.M.M. Model Room East Wall
Vessels from this model:
12 built, modeled by NGH
#457s Osprey (1895)

Original text on model:
"21' WL of 1894 (No. 442, 443, 444, 445, 447 28' 446 ALERION 2 scale)
1895 (28' WL 453 VAQUERO 15" scale ________ 12" scale, 454 LAGODA 19' 6", No. 457 OSPREY 15' 7" WL,
1896 458 27' WL, 478 15'7" WL 1/2 RATER" (Source: Original handwritten annotation on model. Undated.)
Model Description:
"#442 Houri, 21' lwl fin-keel sloop of 1894. Also used for #443 Adelaide, #444 Vaquero, #445 Dorothy, #447 Ceila, and with scale change for #446 Alerion, 28' lwl of 1894, #453 Vaquero II, 26' lwl of 1895, #495 Lagofa, 19'6" lwl of 1895, #457 Osprey, 14'5" lwl of 1895, #458 Mist, 27' lwl of 1895, and #478, 14'5" lwl half-rater of 1896." (Source: Bray, Maynard. 2004.)
Related model(s):
Model 1109 by NGH? (1897?); sail, not built

Note: Vessels that appear in the records as not built, a cancelled contract, a study model, or as a model sailboat are listed but not counted in the list of vessels built from a model.
Text
Other Contemporary Text Source(s)
"NEWPORT, R.I., Aug. 24 [1896]. --- There was a race of half-raters tn the outer harbor to-day for a gold cup given by Mrs. Oliver H. P. Belmont between W. K. Vanderbilt, Jr.'s, Osprey, a Herreshoff boat, and H. O. Havemeyer, Jr.'s, Ideal, a [W. P.] Stephens boat. A six-mile course, from Brenton's Cove to and around a buoy off Jamestown, to and around Bishop Buoy, and back to the start, waa sailed.
The wind was southwest at first, but it changed twice later, so that every leg was a reach. There has been a great deal of rivalry between the owners of these two boats, and a large crowd followed the race, Mr. and Mrs. Belmont being out in the launch Defender. The Osprey went in stays in crossing, and then passed the line, and was recalled, so that she lost 1 minute and 20 seconds on the start. The Ideal made the first in 8:42, and young Vanderbilt in the Oprey, was 24 seconds behind. On the second leg the Ideal increased her lead, and on the last leg the Herreshoff boat was again walked away from." [Ideal won by 5:02 minutes.] (Source: Anon. "Race For Half-Raters. Havemeyer's Ideal Beat Young Vanderbilt's Osprey." New York Times, August 25, 1896, p. 6.)

"PROBABLY the youngest yachtsman in this country is Master William Kissam Vanderbilt Jr., son of William K. Vanderbilt, owner of the palatial yacht Valiant. There is little doubt in the minds of those who have watched the interest taken in boats by this young man that in the near future he will rank among the foremost yachtsmen of the world. There are undoubtedly many boys of lesser years who sail boats, and do it well, but the title 'youngest yachtsman' is due to Master Vanderbilt from the fact that he is a 'deep-water' sailor, the ocean and large bays alone furnishing room enough to suit him. One day last summer in Newport harbor Master Vanderbilt was to race his half-rater against that of young Harry Havemeyer. When they had reached the starting point in Benton's cove Master Vanderbilt insisted on laying the course out to sea, but to this Havemeyer would not agree. Young Vanderbilt could not understand why Havemeyer wanted such tame sailing, though finally there was a compromise on a course in Narragansett bay.
Master Vanderbilt is quick to learn and afraid to try nothing with his boats, yet he will not needlessly run into danger. During the summer season he is almost continually afloat. Last season he chartered the crack sloop Jessica, in which he made many cruises, always taking a large party of friends along. The sloop was furnished magnificently and only the best of everything was ever taken on board. In addition to the Jessica, Master Vanderbilt owned a half-rater, in which he raced until he saw that his boat was not so fast as certain others, when he laid her up, and to-day she is high and dry at Bliver's yard, in Newport, where she will probably end her days. This boat was called the Osprey, and, like the Jessica, she flew the private flag of the Valiant. The Osprey is a Herreshoff boat, and Master Vanderbilt got to be such an adept in handling her that he could take her through narrow openings that would have staggered older sailors and dart her around the wharves so skillfully as to excite the envy of all who saw him.
Master Vanderbilt won only one race with the Osprey. It was held under the auspices of the Jamestown Yacht Club, but on special occasions, when he wanted his boat to win, she would prove an utter failure. The event which ended the life of the Osprey, was the outcome of the match race between her and Harry Havemeyer's Ideal, the prize being a gold cup offered by his mother, Mrs. O. H. P. Belmont. It was a ten-mile triangular race and one of the yachting events of Newport's last season, being witnessed by many society people, including Mr. and Mrs. Belmont and several of Master Vanderbilt's young lady admirers. In this race the Ideal proved to be the better boat of the two, and at the finish line was five minutes ahead of the Osprey. Master Vanderbilt was hugely disgusted with the action of his boat, and after that he devoted his time to sailing the Jessica, but as none of his young friends had sloops that could compete with her, it was tame sport for him.
He is now at school at Southbridge, Mass., preparing for Yale College, but the coming season he will again be on hand and it is understood that he will this time try his luck with one of the Herreshoff thirty-footers, a class which proved so popular last season, and which will do much racing this year. Master Vanderbilt means to have a winning boat, and will keep at it until he succeeds in getting one that can leave everything in its wake." (Source: Anon. "The Youngest Deep-Water Yachtsman." San Francisco Chronicle, March 7, 1897, p. 15.)
Other Modern Text Source(s)
"There is good reason to believe that young Mike Vanderbilt, age eleven in 1895, did not ever himself sail the high-strung racer OSPREY. This half-rater, ordered by his father, William K. Vanderbilt, was a brilliant, rather giddy, sailing machine only 14' 5" on the water. The man considered by many to be the richest citizen of the nation paid the Herreshoffs only $1000. The Builder's List indicates that the railroad magnate intended from the start to have T. C. Zerega campaign the boat. This well-known racing yachtsman could hardly have found much time to entertain a pre-teenager on board a craft as tricky as this little half-rater, even if his father had signed the check." (Source: Streeter, John W., editorial note. In: Herreshoff, Nathanael Greene and William Picard Stephens. "Their Last Letters 1930-1938." Annotated by John W. Streeter. Bristol, R. I., ca. 1999, p. 200.)
Supplement
From the 1920 and earlier HMCo Index Cards at the MIT Museum
Note: The vessel index cards comprise two sets of a total of some 3200 cards about vessels built by HMCo, with dimensions and information regarding drawings, later or former vessel names, and owners. They were compiled from HMCo's early days until 1920 and added to in later decades, apparently by Hart Nautical curator William A. Baker and his successors. While HMCo seems to have used only one set of index cards, all sorted by name and, where no name was available, by number, later users at MIT apparently divided them into two sets of cards, one sorted by vessel name, the other by vessel number and greatly expanded the number of cards. Original HMCo cards are usually lined and almost always punched with a hole at bottom center while later cards usually have no hole, are unlined, and often carry substantially less information. All cards are held by the Francis Russell Hart Nautical Collections of the MIT Museum in Cambridge, Mass.
From the 1931 HMCo-published Owner's List
Name: Osprey
Type: J & M
Length: 14'5"
Owner: Yznaga, T.

Source: Herreshoff Manufacturing Company. "A Partial List of Herreshoff Clients." In: Herreshoff Manufacturing Company. Herreshoff Yachts. Bristol, Rhode Island, ca. 1931.

From the 1930s L. Francis Herreshoff Index Cards at the Herreshoff Marine Museum
Note: The L. Francis Herreshoff index cards comprise a set of some 1200 cards about vessels built by HMCo, with dimensions and / or ownership information. Apparently compiled in the early 1930s, for later HMCo-built boats like the Fishers Island 23s or the Northeast Harbor 30s are not included. Added to in later decades, apparently by L. F. Herreshoff as well as his long-time secretary Muriel Vaughn and others. Also 46 cards of L. F. Herreshoff-designed vessels. The original set of index cards is held by the Herreshoff Marine Museum and permission to display is gratefully acknowledged.
From the 1953 HMCo Owner's List by L. Francis Herreshoff
Name: Osprey
Type: 14' 5" J & M
Owner: T. Yznaga
Row No.: 499

Source: Herreshoff, L. Francis. "Partial List of Herreshoff-Built Boats." In: Herreshoff, L. Francis. Capt. Nat Herreshoff. The Wizard of Bristol. New York, 1953, p. 325-343.

From the 2000 (ca.) Transcription of the HMCo Construction Record by Vermilya/Bray
Month: June
Day: 15
Year: 1895
E/P/S: S
No.: 0457
Name: Osprey
LW: 14' 5"
B: 4' 7"
D: 3' 9"
Rig: J & M
K: FK
Ballast: Lead
Amount: $1000.00
Notes Constr. Record: 1/2 rater?; under W.K. Vanderbilt
Last Name: Yznaga
First Name: T.

Source: Vermilya, Peter and Maynard Bray. "Transcription of the HMCo. Construction Record." Unpublished database, ca. 2000.

Note: The transcription of the HMCo Construction Record by Peter Vermilya and Maynard Bray was performed independently (and earlier) than that by Claas van der Linde. A comparison of the two transcriptions can be particularly useful in those many cases where the handwriting in the Construction Record is difficult to decipher.

Link to the Herreshoff Registry
The Herreshoff Registry can be particularly useful for researching the provenance of Herreshoff-built sailing vessels. Permission to link to the Registry is gratefully acknowledged!
Note
We are always interested in learning more about this vessel. If you want to discuss it or can share any additional information or images or to discuss a copyright concern, please do not hesitate to send an Email to the link below!


Herreshoff Catalogue Raisonné.
All rights reserved. No reproduction, adaptation, or distribution of any part of this document or any information contained herein by any means whatsoever is permitted without prior written permission. For the full terms of copyright for this document please click here. Last revision 2018-01-01.
© 2018,

Citation: HMCo #457s Osprey. Herreshoff Catalogue Raisonné. http://herreshoff.info/Docs/S00457_Osprey.htm.